Bedrock Collectibles Announces DC Trinity ¼ Scale Statue Diorama
Toronto, ON – August 25, 2022 – Bedrock Collectibles is proud to announce its first officially licensed DC product, the DC Trinity 1/4 scale statue diorama set. Featuring a powerful depiction of Batman, Superman, and Wonder Woman, it is the first collectible in its multi-year licensing agreement with Warner Bros. Consumer Products. The DC Trinity is a limited-edition set, individually numbered, and comes with a certificate of authenticity. Pre-orders are open now with an expected delivery of Q1 2023. In celebration of this announcement, an early bird pre-order discount is available for $2199 USD. Payment plans are available. Early bird pricing ends September 28th, 2022.
Always pushing the limits of creative design and utility, the Bedrock Collectibles DC Trinity features a modular design, allowing collectors to display Batman, Superman, or Wonder Woman separately—each with their own unique base design—or combined together to form an epic display of the Trinity. Once assembled, the diorama stands heroically at approximately 32″ tall.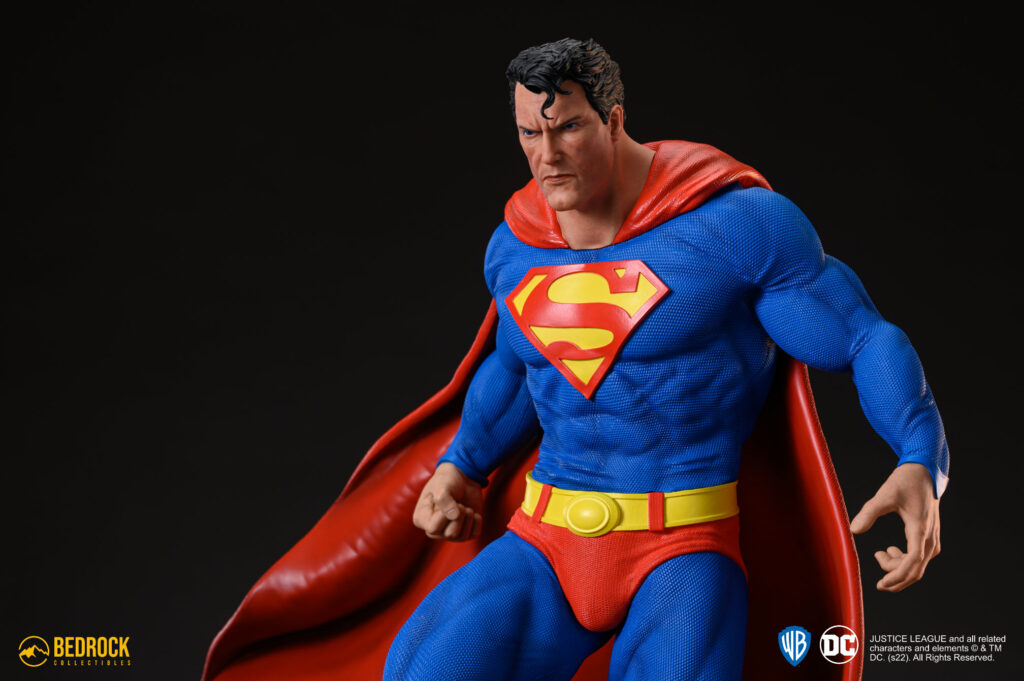 The DC Trinity Diorama is Bedrock Collectibles' company-wide flagship product of the year. An all-star lineup of talent was involved in the diorama's creation, including legendary top 3D artist Caleb Nefzen. Featuring the most iconic DC Super Heroes, this imposing diorama has an incredible shelf presence worthy of any centerpiece display. Sculpted in solid, high-grade polystone and hand painted to exquisite detail, DC's finest Super Heroes are brought to life with museum-level quality.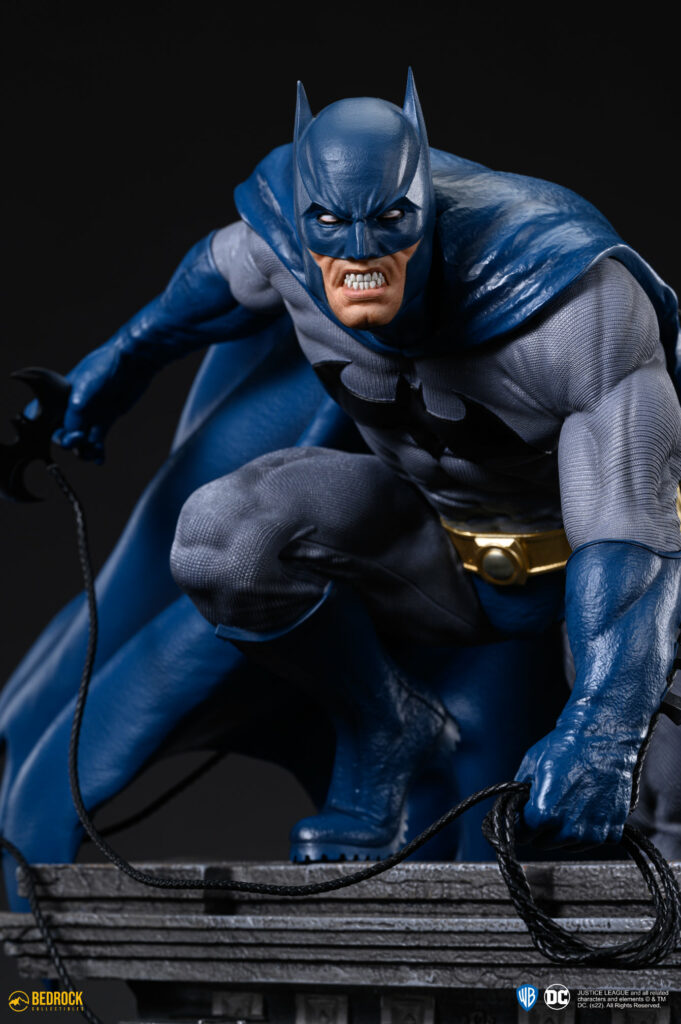 While the diorama is massive in scale, it is also massive in value:
Includes three full size 1/4 scale statues of Batman, Superman, and Wonder Woman
Each character has alternative switch-out head sculpt and accessory options
Personalized base – if displayed separately, each character sits atop a base matching their universe, including Batman's Gotham City rooftop, Superman's Daily Planet, and Wonder Woman's Greco-Roman style building
All orders come with a complementary DC art print featuring all characters ($90 USD value)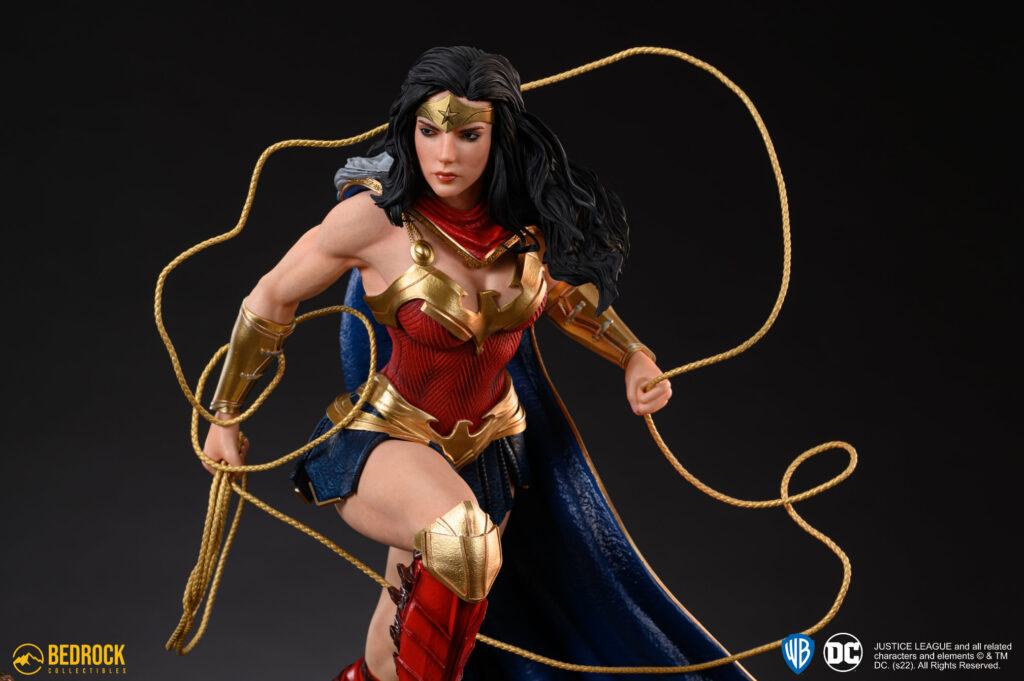 Product Dimensions: 32.3 in (H) x 27.2 in (W) x 22.5 in (D)
Limited edition
Hand painted
Edition Size: TBA
Availability: Preorder ( ETA Q1 2023 )
Material: Polystone
Looking to see the DC Trinity Diorama in person? Come see Bedrock Collectibles at Fan Expo 2022! The team will be showcasing the DC Trinity from August 25-28th in Toronto, Canada at the Metro Toronto Convention Centre. All visitors will have the chance to win their own DC Trinity through a sweepstakes. Preorder now to secure this limited edition, one of a kind diorama.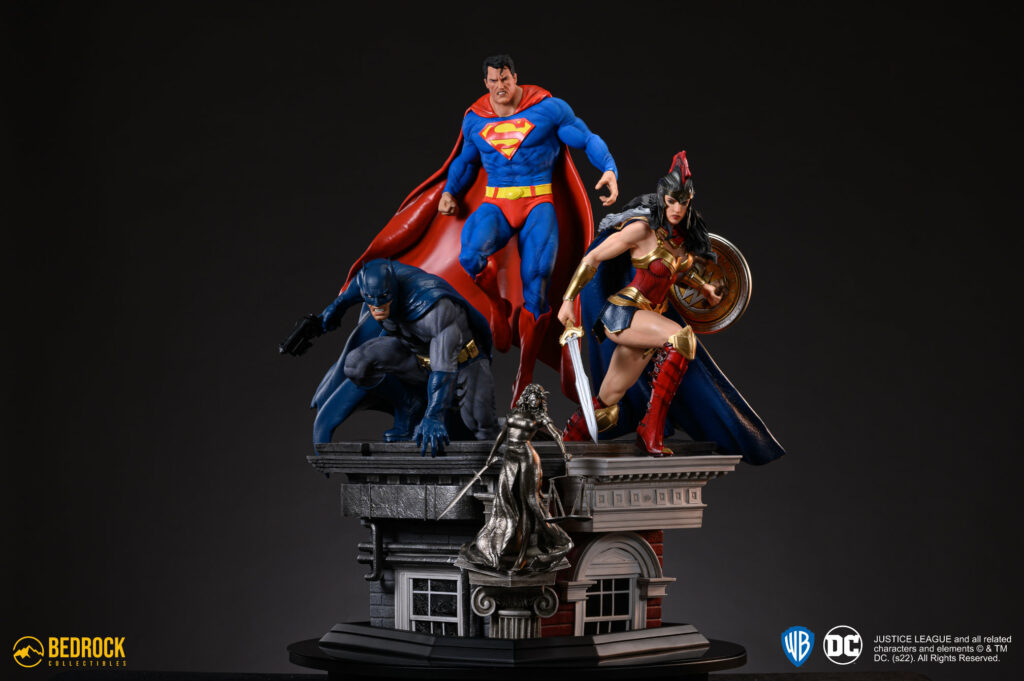 About Bedrock Collectibles:
Bedrock Collectibles is a premier licensed producer of high-end, limited edition pop culture collectibles. We specialize in artisan-quality, collectible statues of your favorite characters, sculpted in high-grade polystone resin. To elevate beloved franchises to new heights, we have assembled an all-star team of world class artists, sculptors, master painters, and creative minds, all with the common goal of creating remarkable statues worthy of any centerpiece display. Beyond statues, we expanded our product lines to include premium art toys, busts, fine art prints, and dioramas. As collectors ourselves, we have a strong pulse for the statue and high-end collectibles market, using our expertise to create pieces fans have demanded for years. Bedrock Collectibles is one of the fastest-growing collectibles companies in Canada, with multiple high-profile licenses across major pop culture categories, including comics, movies, TV shows, and video games. We have already signed licensing agreements with some of the biggest names in the industry, including Warner Bros. Consumer Products and DC, Spin Master, Valiant Entertainment, and many others.
About Warner Bros. Consumer Products
Warner Bros. Consumer Products (WBCP), part of Warner Bros. Discovery Global Brands and Experiences, extends the company's powerful portfolio of entertainment brands and franchises into the lives of fans around the world. WBCP partners with best-in-class licensees globally on an award-winning range of toys, fashion, home décor, and publishing inspired by Warner Bros.' biggest franchises from DC, Wizarding World, Looney Tunes, Hanna-Barbera, Game of Thrones, Cartoon Network and Adult Swim. With innovative global licensing and merchandising programs, retail initiatives, and promotional partnerships, WBCP is one of the leading licensing and retail merchandising organizations in the world.
About DC
DC, a Warner Bros. Discovery Company, creates iconic characters, enduring stories, and immersive experiences that inspire and entertain audiences of every generation around the world and is one of the world's largest publishers of comics and graphic novels. As a creative division, DC is charged with strategically integrating its stories and characters across film, television, consumer products, home entertainment, interactive games, and the DC Universe Infinite digital subscription service and community engagement portal. For more information visit dc.com.
Media Contact
Shawn Karawaju
Co-Founder & CEO
hello@bedrockcollectibles.ca