Announcing the 1:1 Life Size Zombie Bear Bust
Bedrock Collectibles is proud to announce our first original creation, the Zombie Bear! This is the first creation in our new original line, The Undead Ferals.
Expanding Our Reach With Horror Collectibles in Canada
In addition to licensed statues like Captain Canuck and future projects, we have expanded an original line to explore our creativity and serve the growing horror statue/bust fanbase.
This will allow Canadian horror fans get their fix for horror collectibles whether it's zombie oriented, fantasy, animal based or pop culture based.
Our Direction for an Original Bust
When brainstorming our next project we wanted to take a bold, creative and ambitious direction. The Zombie Bear was an idea that came together quickly.
All the detail you see , from the rotting and exposed flesh to the insides of the Bear's mouth was done to give any onlooker passing by what an enraged, undead zombie bear would look like in life size scale.
Why 1:1 Life Sized Scale
We felt in order to give this bust the shelf presence it needs, a 1:1 bust was the best route to make the horror elements pop a little more. Another reason: bears are large in real life so why not?
Plus a bear is an interesting choice for life size scale because you have more "real estate" to work with and you could emphasize even more detail with the polystone resin for a life size bust.
One of my favorite parts up close is the texturing of the fur. At 1:1 scale for the zombie bear bust, you could see the great details of the strands and the paint gives it just enough sheen to make the bust stand out even more. To give you a sense of scale for our 1:1 zombie bear bust, check out our 3d print below;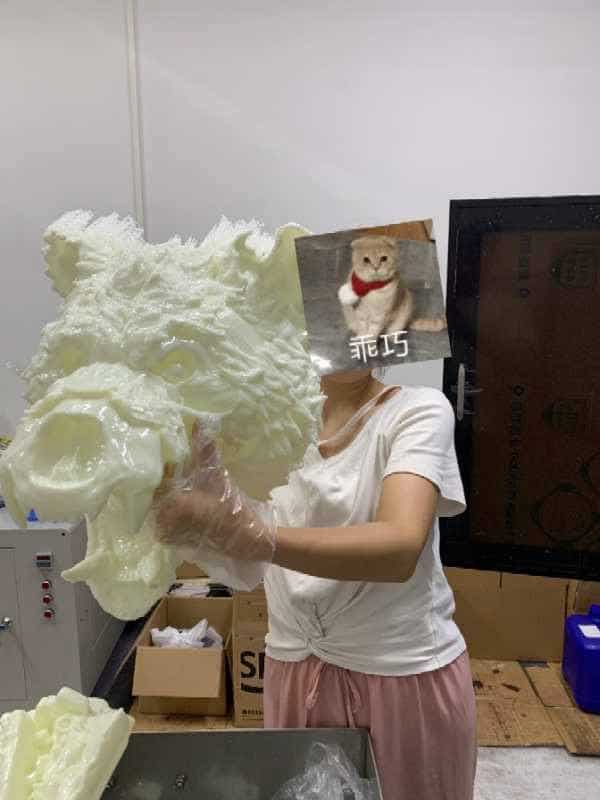 Yeah! It's Massive!!
This brings us to our next point….
Display the Zombie Bear Bust Free Standing or Wall Mounted
I know you all have your own man caves or basement hideaways, so if you're looking to spice up your wall decor, the Zombie Bear can give your wall a more attitude, some umph or even scare away pesky kids or a even nagging partner! ( You could thank us later 😉 )
Early Preorder Pricing
To start Halloween off with a bang, preorders are now open with introductory pricing for early buyers. Canadian buyers rejoice, the Zombie Bear is in CAD, no hidden fees, and if you're located in Toronto or the GTA we offer local pickup as well.
International buyers are welcomed as well, so don't get scared off by the CAD pricing, if anything, you'll save instead of buying in USD ;).
We are targeting a mid 2021 launch for now, if we see a lot of interest, we may even push our production schedule earlier.
Our Zombie Bear bust is available right now in the store, full preorder price is $649 CAD (~$499 USD). Given its size and scale, it's very reasonably priced especially when you compare it to similar sized busts on the market.
We also offer a full complement of payment plans, including 3 or 6 partial payment installments for the bust. If you are interested, please click the link the below to lock in your preorder. As always, your support drives us to create more statues and bust and move on to even bigger projects.
Thank you everyone!
Happy Halloween,
Shawn